German Bootcamp: Kickstart your German in 2023 (Mar 6 – 12, 2023)
€7
German Bootcamp: Kickstart your German in 2023! Learn basic German skills in 7 days! Yes – that's right! All you need to invest is one hour a day, that is 7 hours in total and less than a good night's sleep 🙂
Beschreibung
German Bootcamp:
Kickstart your German in 2023
Have you been wanting to learn German for a while?
Have you been putting it off for just as long?
»»» Then our German Bootcamp is the perfect chance to kickstart your German in 2023! 
A new Bootcamp round starts every month. 
Next Bootcamp starts:
March 6, 2023
All upcoming dates are listed below.
Start the new year off right and learn basic German skills in 7 days in a fun and respectful learning environment online. All you need to invest is one hour a day, 7 hours in total, which is less than one good night's sleep 🙂
---
German Bootcamp: Kickstart your German in 2023
7 days – 7 hours – 7 topics
Over the course of 7 days  we will be covering 7 topics in daily 1-hour lessons.
The next Bootcamp will be held March 6 – 12, 2023.
Join us daily for 1 hour from online from 11:00 – 12:00 (CET – Berlin time).
If you are in different timezone: Don't worry!
All sessions will be recorded so you can catch the replays if you can't make it to the class live.
ANASHA Sprachschule is a vegan business. We are passionate about sharing our love for the language, our love for all beings as well as the planet and we love sharing this passion in our virtual classrooms!
---
WHAT WILL BE COVERED? 


Here are the topics for the German Bootcamp:
Introductions, greetings & farewells
The alphabet & numbers
Days of the week, months & telling time
Countries & languages
Preferences & hobbies
Seasons & weather
Education & work
After these 7 days you will be able to express yourself in basic German sentences around the above mentioned topics. Also, there will be an opportunity to continue learning German with us after the Bootcamp.
INVESTMENT:


€7 and 7 hours of your time!
Upcoming Bootcamp dates: 
March 6 – 12, 2023
April 17 – 23, 2023
May 19 – 25, 2023
---
SHOULD YOU JOIN THE GERMAN BOOTCAMP?
The German Bootcamp is for you, if: 
You've been wanting to learn German for a while but have been putting it off for just as long
You need to learn basic conversational German skills very quickly
(e.g.for a trip, for work, for an acting job, to impress someone)
You believe – just like Oscar Wilde did – that life is too short to learn German (we'll show you otherwise)
You want to get a kickstart before diving deeper into structural language learning
(yes, we'll offer you an opportunity to continue learning at a little slower pace after the bootcamp)
You enjoy learning language basics and German is yet on your list of languages to master (at least a bit)
You just want to try something out of your comfort zone while having fun
Join us now by purchasing the product through the buttons at the top of this page!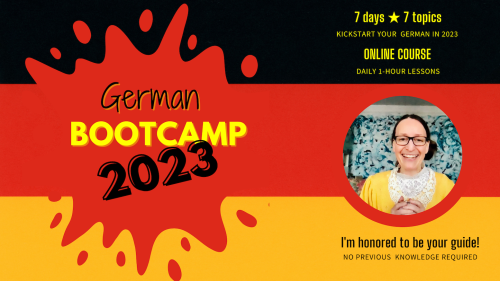 ANASHA Sprachschule specializes in conversation, writing and phonetics classes.
Please check out our complete offer on our website and join our Facebook community Plauderstündchen.